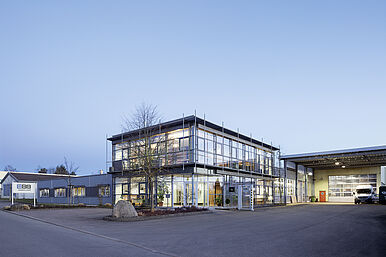 The name EBB stands for innovative furniture fittings and metal components of the highest quality.
EBB Beschlagtechnik GmbH was founded in 1979 by Wolfgang Ehrmann and partners at today's location in Swabian Nagold. Among the first products of the company were patented height-adjustable supports for the concealed fixing of wood shelves. By now, EBB is headed by the second generation, Michael Ehrmann. Along with its sister company EIKKO Drehteil GmbH, located in Saxon Burkhardtsdorf in the Ore Mountains, the company currently has 70 employees.
Our focus is on modern and high-class fitting systems. We develop and produce fittings for the furniture industry and related sectors, and we distribute them worldwide. Moreover, at EBB as well as at EIKKO we manufacture metal components for the mechanical engineering industry, automotive industry, electrical and laser industry.
Numerous patents and utility models document the innovative and creative performance of our staff. In order to permantly convince you of our products, we set great store by the best quality and we flexibly and individually put your wishes into practice. Our content customers at home and abroad reinforce our concept. We offer you manufacturing quality in series.
We are quality management certified to ISO 9001:2015.
Further information about our company can be found in our image brochure.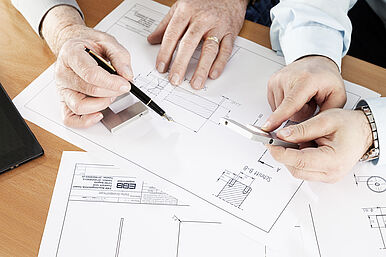 Design
You can expect aesthetically appealing and stylish products from us. In collaboration with external designers, our experts develop products for you that pick up current trends and leave their own imprints in the market.
Development
In team play with construction engineers and designers, we develop new ideas and trends for you. Our experienced engineers and technicians are in intense dialogue with you in order to put your wishes pinpoint into practice. In this way flexible, marketable solutions arise.
Construction
For the optimal success in practice we convert the bases of development into construction plans and production documents with CAD systems. Efficiently, effectively, powerfully.
Prototype assembly
At first we build prototypes, so that you obtain a product that satisfies thoroughly in function, design and surface feel. Thus you get a comprehensive impression of how the idea might look like in practice. Once everything suits, the product reaches series production.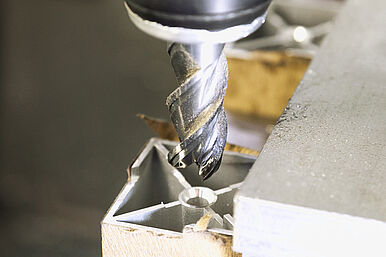 Sawing
Among our machine line-up are modern and powerful automatic sawing machines for steel and light metal. Our products are formed by progressive CNC-guided sawing techniques and processed by downstream deflashing units.
Sheet metal work
With our fiber laser system, we cut your desired products from steel and stainless steel
sheets according to your drawing data.
We would be happy to bring your products into shape with our folding machines.
Milling
We process our makes with modern 5-axis CNC milling machines. We put the most diverse materials into shape, assemble prototypes and produce initial series.
Bending
We bend both tubes and flat cross sections with our CNC bending machines in a highly precise and surface protective way. In this way perfectly even shaped tubes and flat bent parts are formed.
Grinding
You can expect products with a perfect finish from us. For an excellent surface we grind and burnish it with our 4-stations cylindrical and flat grinding machines and process them with follow-up machines.
Refining
We put the finishing touch to our products by refining their surfaces. They either get powder-coated, lacquered, galvanised or chrome 6-free plating. At refining we collaborate with expert partner companies in our region.
Packing and fitting
We want you to receive our goods in perfect condition, therefore all our products undergo visual inspection during assembly and subsequent packaging. You can count on us to deliver quickly and on schedule.