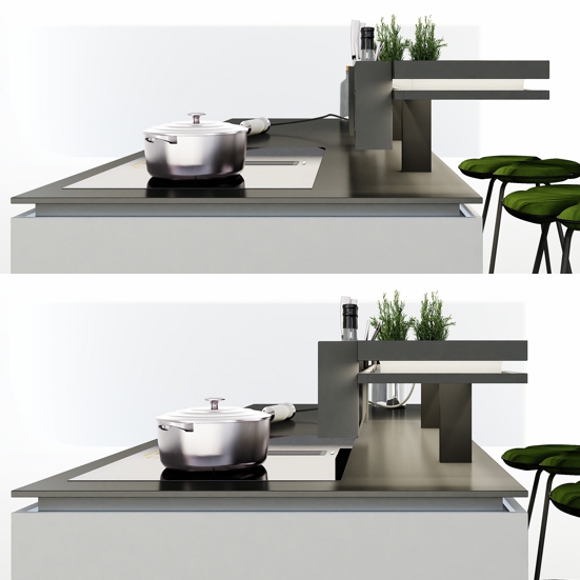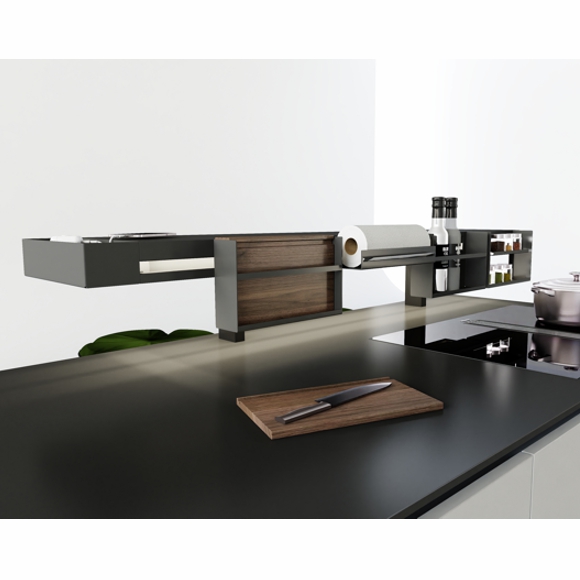 Counter system one
The sliding counter system with a wide range of possible applications
as an accessory assistant on the hob or as a communicative bar counter.
adjustable in depth by 150 mm, locking with star grip screw
2 sockets (SCHUKO)
optionally with ambient light
Width 1500/1800mm
Depth 300mm
Total height 270mm
Steel/aluminium powder-coated black matt structured
The decor can be flexibly adapted by inserting 16 or 19 mm board material
(not included!)
Hanger width 300 mm
Bottle/Cutting Board Rack
spice rack
kitchen roll holder
Shelf/tablet/cookbook holder
Storage tray (can only be hung on the side!)
suitable insert for charging cable
Hanger width 90 mm
Universal quiver
Knife block with special bristles

Hanger also suitable for niche system one, serving trolley one and hanger rail one.
Type
Art. No.
Counter systems
Counter system 1200 mm
55.510.13-1200
Counter system 1500 mm
55.510.13-1500
Counter system 1800 mm
55.510.13-1800
Counter system 1200 mm with LED lighting
55.511.13-1200
Counter system 1500 mm with LED lighting
55.511.13-1500
Counter system 1800 mm with LED lighting
55.511.13-1800
Hangers
Bottle/Cutting Board Rack
55.512.13
Spice rack
55.513.13
Kitchen roll holder
55.514.13
Shelf/tablet/cookbook holder
55.515.13
Universal quiver
55.516.13
Knife block with special bristles
55.517.13
Storage tray (side)
55.518.13
Insert for charging cable to storage tray
55.519.13